SUCKS N SUMMER OPEN AIR FESTIVAL 2011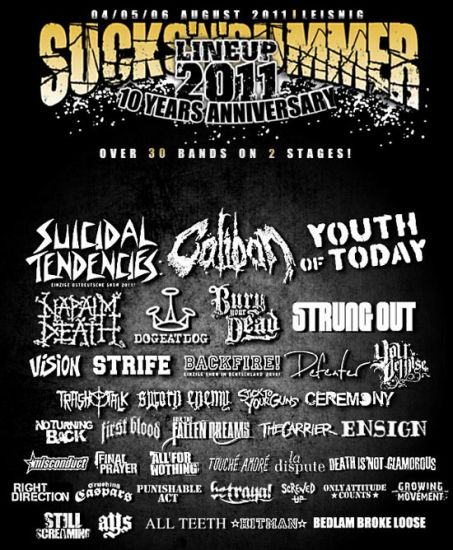 The Sucks'n'Summer Festival is one of the most popular hardcore festivals in Germany. A lot of people started in 2001 with a small one day fest. In 2011 we are celebrating the 10th anniversary of the Festival with a big party.
04. August 2011 - 06.August 2011
Leisnig (near Leipzig) // Saxony // Germany
Tickets könnt ihr auf
www.sucksnsummer.de
für aktuell 45,- EUR (komplettes Wochenende) vorbestellen!
Das bisherige LineUp: SUICIDAL TENDENCIES, CALIBAN, NAPALM DEATH, DOG EAT DOG, BURY YOUR DEAD, VISION, STRIFE, SWORN ENEMY, STICK TO YOUR GUNS, FIRST BLOOD, MISCONDUCT, BACKFIRE!, ALL FOR NOTHING, CEREMONY, THE CARRIER, NO TURNING BACK, FOR THE FALLEN DREAMS, FINAL PRAYER, TOUCHÉ AMORÉ, DEATH IS NOT GLAMOROUS, PUNISHABLE ACT, CRUSHING CASPARS, BETRAYAL, GROWING MOVEMENT, HITMAN, SCREWED UP, ALL TEETH, ONLY ATTITUDE COUNTS, AYS, LA DISPUTE, WISH FOR WINGS, RIVALS!
DIE RUNNING ORDER KÖNNT IHR EUCH UNTER www.partyausfall.de DOWNLOADEN!
Bilder/Credits: Www.sucksnsummer.de
Links: