Konzert: A TRAITOR LIKE JUDAS, LIGHT YOUR ANCHOR, RISING ANGER, UNDER THE SUNRISE, WOOD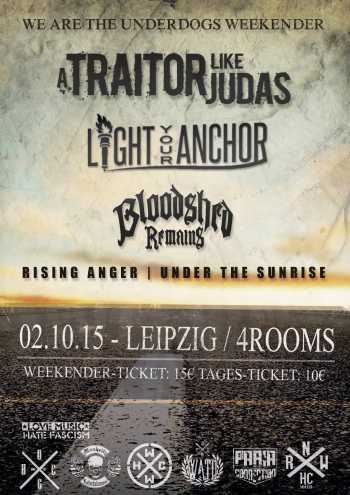 Datum: 02.10.2015 (Fr.)
Location: 4 Rooms / Leipzig (Sachsen)
Website: www.facebook.com
Am 02.10. Startet die erste "We are the Underdogs" Weekend Tour in Leipzig. Der WATU Weekender geht zwei Tage und es sind 5 Bands vertreten.
Am 02.10. Findet das ganze in Leipzig im 4 Rooms statt. Und am 03.10. im Jugenclub in Wegelben.
mit vertreten sind

- A Traitor Like Judas
- Light your Anchor
- Rising Anger
- Under The Sunrise
- Wood
+ Support Band!

Die 6 Bands gibt es für 10 € Eintritt zusehen. 18 Uhr öffnen die Tore und 19 Uhr startet die Support Band 30 Days Later.