Konzert: BIRDS IN ROW, SHIROKUMA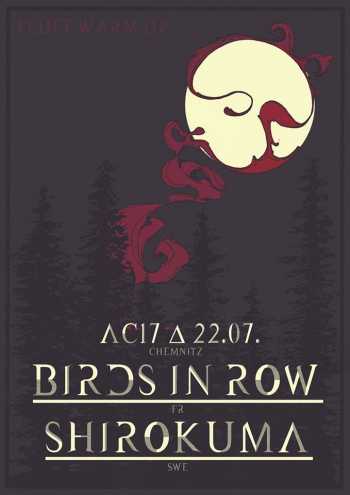 Datum: 22.07.2015 (Mi.)
Location: Ac17 / Chemnitz (Sachsen)
Website: www.facebook.com
2015's Edition of our Fluff Warm Up Celebration.

- BIRDS IN ROW - (Laval, FR)
Blues / Punk / Hardcore

www.birdsinrow.com
www.facebook.com
vitriolrecords.bandcamp.com

again and again and again and again we love those songs. new record is on its way! hard to believe roughly one year after i was sitting down writing some farewell words... deliriously happy that its happening again!
_________________________

- SHIROKUMA - (Söderhamn, SWE)
Screamo / Punk

www.facebook.com
shirokumaband.bandcamp.com

after Shirokuma had to cancel their participation on tour with disembarked this february, they'll finally around for this years edition of AC17's own fluff warm up show. we're proud as you might guess. _________________________

// www.ac17.tumblr.com

vegan food // cool drinks // nice people // loud music
First Beer: 20.00 Uhr / 8 pm
First Band: 21.30 Uhr / 9.30 pm (SHARP!)

Bring a friend along.