Konzert: DIREWOLVES, SCHUTTRUTSCHE, MINORANZA DI UNO, ALLDWAYS, DIS-DISASTER, CHAMBERS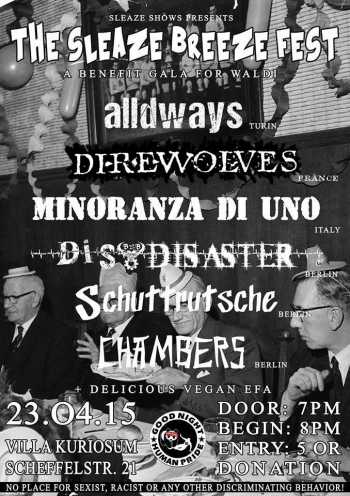 Datum: 23.04.2015 (Do.)
Location: Villa Kuriosum / Berlin (Berlin)
Website: www.facebook.com
Welcome to our fantastic highlight of the year: the inspiring SLEAZE BREEZE FEST !!

We gained the familiar Villa Kuriosum to celebrate this one-day indoor fest!
Beside six furious bands there will be drinks and delicious vegan food all night long!

Direwolves (Dark Hardcore | Lorient)
direwolves.bandcamp.com

Alldways (Hardcore | Torino)
alldwaystohc.bandcamp.com

Schuttrutsche ( SchnabeltierPunk | Berlin)

Minoranza Di Uno (Punk | Italy)
www.facebook.com

Dis- Disaster (Pissed Off Hardcore Punk | Berlin)
www.facebook.com

Chambers (Dark Hardcore | Berlin)
wearechambers.bandcamp.com

Doors: 7 pm
Start: strictly at 8 pm!

Entry: 5 € or donation

All leftover incomes will support an activist, who is wrongly accused of attacking a police man.