A TRAITOR LIKE JUDAS - Band mit Hardcore Help Foundation auf X-MAS Tour 2013
Mo., 18.11.2013 - 07:53 Uhr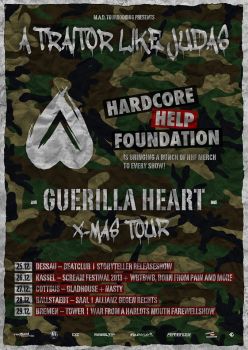 Die Hardcore Metal Band A TRAITOR LIKE JUDAS wird vom 25. Dezember bis 29. Dezember 2013 auf X-MAS Tour zu sehen sein, und haben dabei die Hardcore Help Foundation mit einem eigenen Stand mit im Gepäck.

Die HARDCORE HELP FOUNDATION hat aktuell eine Spendenkampagne für die Opfer der Taifun Katastrophe auf den Philippinen ins Leben gerufen: pade.ws

Hier die Ankündigung mit allen Terminen:
ATLJ's Guerilla Heart & Hardcore Help Foundation X-MAS TOUR!
25.12 Dessau: Storyteller Releaseshow
www.facebook.com
26.12 Scream Festival w/ We Butter The Bread With Butter, Born From Pain+ many more!
www.facebook.com
27.12 Cotbus: w/ Nasty + FALLBRAWL
28.12 Ballstädt: Gemeinsam gegen Rechts!
www.facebook.com
29.12 Bremen: War From A Harlots Mouth farewell tour
www.facebook.com
Support the HHF! Check their actual relief for philippines:
www.facebook.com
The HHF will bring a bunch of HHF merch to every show!