ABANDON ALL SHIPS - Band gibt Auflösung bekannt
Sa., 16.08.2014 - 14:28 Uhr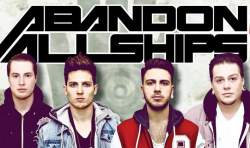 Die kanadische Metalcore/Elektrocore Band ABANDON ALL SHIPS hat ihre Auflösung bekannt gegeben.

Offiziell heißt es:
"We'd like to start this off with a thank you. Thank you to our fans, friends, and family for the last 8 years. After many ups and downs, good times and bad, it's time that Abandon All Ships comes to an end. There's no hard feelings or inner turmoil, it's just time that we all move on to the next chapter of our lives.

"We'd also like to say thank you to Velocity/Rise Records, The Agency Group, Avocado Booking, Redfield Records, Go With Me Records, Underground Operations, and our management teams at Artery Foundation & Cloud Empire. Without you, this could have never happened."