APOSTATE - Herbsttour vollständig abgesagt und Pause auf unbestimmte Zeit
Do., 25.10.2012 - 13:22 Uhr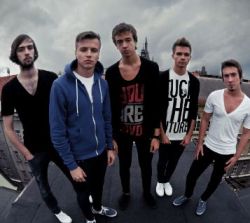 Wie gerade bekannt wurde, musste das Metalcore-Outfit aus der Tschechischen Republik die am kommenden Samstag startende Tour aus privaten Gründen komplett absagen.

Bitte teilt diese Information auf allen Kanälen.

Gleichzeitig wurde bekannt, dass man auf unbestimmte Zeit die Aktivitäten einstellen wird.

Hier das offizielle Statement:

Unfortunately today we have a very sad announcement. Due to serious personal issues of certain band members we have to cancel our autumn tour that was about to start this saturday. We cannot go into details but I want to make sure that everyone knows that it was a very tough decision for this band. And we are deeply sorry we if let someone down. I also want to make it clear that the band full responsibility for this decision and it has nothing to do with our manager Damian Ekman who has always been doing a good job for us.
We as a band taking a break for a certain period of time. We hope that you understand that this is neccesary for us.