ARK OF THE COVENANT - Neue Band auf Facedown Records
Fr., 27.07.2012 - 08:14 Uhr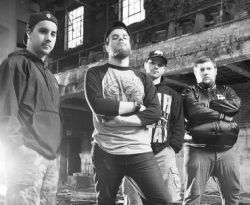 Die Hardcore Band Ark of the Covenant aus Connecticut USA ist bei Facedown Records unter Vertrag genommen worden. Im Winter 2012 soll das Labeldebüt "Self Harvest" erscheinen. Infos zur Band findet ihr auf www.facebook.com online.

Hier die Pressemeldung:
"We are excited to announce that Ark of the Covenant have signed with Facedown Records.

AOTC came out swinging in 2011 with that infamous Connecticut brand of driven hardcore. They recorded their EP Separation at Silver Bullet Studio (Shai Hulud, Life in Your Way) and released it with Strike First Records. Now they're back at Silver Bullet, recording their first full-length Self Harvest with Gregory Thomas of Misery Signals.

The band's debut EP garnered much praise and appeared on Best of 2011 lists.

Ark of the Covenant's debut full-length Self Harvest will be released on Facedown Records this winter."