CHIMAIRA - Neuer Song All That's Left Is Blood online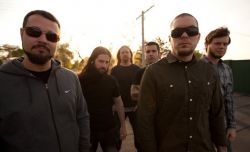 Bild: © www.facebook.com
Do., 16.05.2013 - 06:24 Uhr
Die US Metaller von
CHIMAIRA
haben mit "
All That's Left Is Blood
" einen neuen Song vom kommenden Album "
Crown Of Phantoms
" veröffentlicht. Das neue Album wird am 30. Juni 2013 auf eOne Music erscheinen.
Sänger Mark Hunter kommentiert:
"'All That's Left is Blood' is an exercise in musical evisceration. One almost feels guilty for screaming along to such audio violence. Here, Werstler's soloing lays a daring fluidity over the riot-inciting main riff. It's immediately recognizable as being another classic Chimaira track, trademarked territory yet radical with growth"