DOWNSET - Neues Album One Blood im Juli 2014
Fr., 27.06.2014 - 07:03 Uhr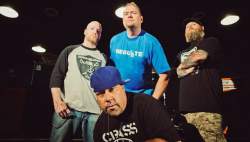 Die US Hardcore / Punk / Metal Band DOWNSET wird am 21. Juli 2014 mit "One Blood" ein neues Album veröffentlichen.

Hier die Pressemeldung:
"Produced by Downset guitarist Brian Ares Schwager and mixed by Wesley Seldman, One Blood was recorded in three locations - Venice and Overland rehearsal studio in Culver City, CA, The Basement in Baltimore, MD, and Creating Better Sounds studio in Palmdale, CA.

"One Blood is Downset in its truest form, coming straight from our hearts to touch the hearts of others," states Schwager.

Downset will perform several east and west coast dates this summer. See below for a current listing of tour dates with ticket prices and door times.

Vocalist Ray Oropeza adds, "The east coast is where Downset will launch our live tour for the One Blood album. To all of our fans that have supported us for the past 20+ years, 'I Will Always Be There For You, I Will Always Be There, ALL I GOT!'"