HASTE THE DAY - Live CD/DVD erscheint im September
Di., 09.08.2011 - 07:42 Uhr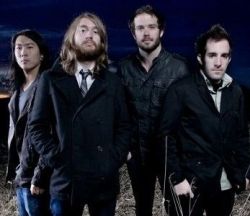 Die Hardcore/Metal Band aus Indianapolis USA wird am 13. September ein Live-CD/DVD Release auf Solid State Records veröffentlichen. Das Album enthält eine umfangreiche Songauswahl der letzten 10 Jahre. Eine genaue Tracklist findet ihr nachfolgend.
"The new album was recorded live at the all-ages music venue Rhino's in Bloomington, Ind., on June 29, 2010, also serving as the album release show for Attack of the Wolf King, the band's final studio album. HTD vs. HTD was engineered and mixed by Brian Thorburn of Threshold Studios, also credited with producing, engineering and mixing Haste the Day's cover of The Black Eyed Peas hit song "Meet Me Halfway."

The live album will also be accompanied by a DVD, which was also shot at the June 29 event. The camera shoot was coordinated and produced by long-time manager Mark LaFay and later edited by David Brodsky of My Good Eye. The DVD will give fans old and new a chance to see all previous and current members of Haste the Day perform songs from all eras of the band's career."
CD Track Listing
01. 68
02. Pressure The Hinges
03. Blue 42
04. Fallen
05. Minor Prophets
06. Autumn
07. The Closest Thing To Closure
08. Walk On
09. White Collar
10. Needles
11. Travesty
12. Dog Like Vultures
13. American Love
14. Substance
15. When Everything Falls
DVD Track Listing
01. 68
02. Pressure The Hinges
03. Blue 42
04. Fallen
05. The Minor Prophets
06. Mad Man
07. Autumn
08. The Closest Thing To Closure
09. Walk On
10. White Collar
11. Needles
12. Travesty
13. Dog Like Vultures
14. Wake Up The Sun
15. American Love
16. Substance
17. When Everything Falls