HIEROPHANT - Neues Album Peste angekündigt
Fr., 26.09.2014 - 07:37 Uhr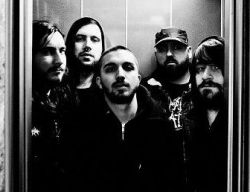 Die italienische Hardcore Band HIEROPHANT hat mit "Peste" ein neues Album via Bridge Nine Records angekündigt.

Hier die offizielle Meldung:
"Italy's Hierophant recently wrapped recording their new full-length album at MV Multimedia Studio. Titled Peste, this 10-song album is the follow-up to 2013's acclaimed Great Mother : Holy Monster LP. The band said that Peste is "way heavier, massive, and more evil than the previous one!" Peste is scheduled for release on CD, LP and digital formats via Bridge Nine Records worldwide. Album art for Peste is attached and track listing can be found below.

Hierophant formed in 2010 and have toured relentlessly with the likes of Deafheaven, Oathbreaker, Tombs, Pelican, Cancer Bats and many more ever since. The band released their B9 debut Great Mother : Holy Monster in March of 2013, which was called "...a searing brand of no-holds-barred dark hardcore that's characterized by bleak, unrelenting guitars and harsh, incomprehensible vocals" by Big Cheese Magazine.

Pre-order information and song premieres from Hierophant coming soon.

Peste track listing:
01. Inganno
02. Masochismo
03. Nostalgia
04. Sadismo
05. Apatia
06. Paranoia
07. Sottomissione
08. Alienazione
09. Egoismo
10. Inferno"