HOMEWRECKER - Video zum Song Skin The Pig online
Fr., 31.01.2014 - 07:34 Uhr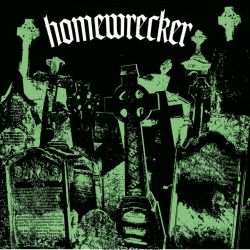 Die US Crust/Metal Band HOMEWRECKER hat ein Video zum Demosong "Skin The Pig" ins Netz gestellt. Den Clip seht ihr im Anschluss.

Die Pressemeldung:
"Having scaled their squad from a quintet with a vocalist down to a quartet with the drummer and guitarist dividing vocal duties, Homewrecker recorded the track as an introduction to the new lineup, and to help fill the gap between their 2012-released Worms & Dirt LP and next official release later this year. As proven on their previous recordings, the band's enraged hardcore is jacked-up on death and grindcore elements and delivered at decimating, tuned-down levels. The overhauled band now unloads an even tighter display of relentless d-beat and blast-infused guttural torment which was present in their recent set at A389's tenth anniversary Bash, and is now blatant in "Skin The Pig." The music for the video was recorded by band cohort Thomas Tadsen in Cleveland in December, the video was shot by Todd Thompson."
Mehr zur Band erfahrt ihr auch auf
www.facebook.com
im Netz.