JOB FOR A COWBOY - Drummer für neues Album gefunden
Mi., 06.11.2013 - 09:18 Uhr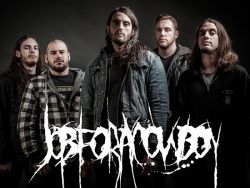 Nachdem JOB FOR A COWBOY Schlagzeuger Jon Rice in der letzten Woche seinen Ausstieg verkündet hatte, konnte die Band nun einen neuen Mann an den Drums verpflichten. Für das kommende Album soll Danny Walker als Studio-Drummer einsteigen.

Hier die Meldung:
"With a new album in the process of being written and scheduled to be recorded with Jason Suecof this winter, Job for a Cowboy have enlisted the immensely capable drumming talents of Danny Walker to fill in as the studio drummer. Walker is known for his work in Intronaut, as well as having performed with Exhumed, Jesu, Phobia, Murder Construct, and more.

Danny Walker comments on being a part of the new Job for a Cowboy album: "I'm thrilled to be working with these guys on this record! I look forward to challenging myself and contributing to a fresh and different outlet!"

Job for a Cowboy bassist Nick Schendzielos has offered the following update: "Well my friends the time has come and The Charn has officially decided to step off the JFAC train. Absolutely no hahd feelins or nothin! We love the dude, cherish the memories we made with him, and in all likelihood will be seeing him again very soon…which brings up the next awesome piece of news. Our phenomenally talented friend Danny Walker is going to grace our next full length with his decidedly delicious drum tracks! We are seriously excited to hear what it's going to turn out like- let the anticipation build!"