MOUTH OF THE SOUTH - Neue Band auf Facedown Records; neuer Song Idle Hands online
Do., 23.01.2014 - 07:26 Uhr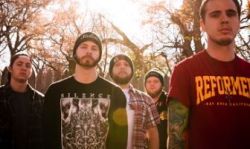 Die aus Texas US stammende Hardcore Metal Band MOUTH OF THE SOUTH ist bei Facedown Records unter Vertrag genommen worden und startet im April diesen Jahres mit den Aufnahmen ihres Labeldebüts.

Weiterhin hat die Band mit "Idle Hands" einen neuen Song online gestellt, den ihr Euch nachfolgend anhören könnt.

Die Band kommentiert:
"We are proud to announce that we have joined the Facedown Records family!!! This is a huge accomplishment for us as a band and we could not be more stoked for what the future has in store! We want to thank each and every single one of you that has supported us along the way, we couldn't have gotten to this point without your support. So if you've come out to a show, bought a shirt or a c.d. or just checked out our music in any way we want to thank you from the bottom of our heart!"