OBITUARY - Update zum neuen Album
So., 03.11.2013 - 10:12 Uhr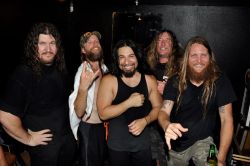 Die US Death Metaller von OBITUARY arbeiten derzeit an einem neuen Album, welches Anfang 2014 erscheinen soll. Wie die Band jetzt berichtet, sind die Songs geschrieben,

Auf Facebook kommentierte die Band:
"So we made it home alive and in one piece from the EastCoast Run. Thank you EVERYBODY that came out to see us! We had a Blast with you guys Jamming ALL the Old Classic Songs. Always a good time with those..."

"Now it's time to get back to Business and keep working on the New Album. We have all the songs written, now we will take our time, trim the fat and focus on making these bass boys as Bad-Ass as possible. We can't be more excited how they are turning out and are SO READY to start recording them!! You guys will be so proud of Us when you hear it. The Old Florida RedNecks pulled one "out the bag" and created a Sick Record!"