STICK TO YOUR GUNS - Band startet mit Aufnahmen zum neuen Album
Mi., 05.02.2014 - 06:29 Uhr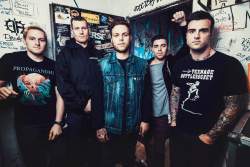 Heute wird die US Hardcore Band STICK TO YOUR GUNS ins Studio gehen und zusammen mit Produzent John Feldmann (The Used, Story of the Year) am neuen Album arbeiten. Erscheinen wird der Longplayer via Sumerian Records.

Sänger Jesse Barnett schreibt:
"Personally this seems like the next logical step for our band. The five of us aren't a group that has ever been ok with doing just enough or even entertain the thought of doing the same thing over and over again. We like to push ourselves. We like to ask ourselves, now what? What can we do to be better? With all of that being said, we are very excited about going into the studio with John. He has proven his expertise in punk music and that he takes bands and gets the absolute best out of them. I think I speak for all of us when I say the band that comes out of the studio will not be the same band going in. We will be bigger, faster, harder and more crushing. This is what we strive for and this is what John will help us achieve."