THE GHOST INSIDE - Video zum Song Slipping Away online
Do., 23.01.2014 - 08:03 Uhr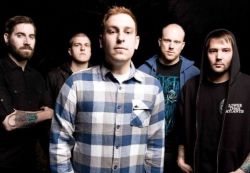 Die US Hardcore/Metal Band THE GHOST INSIDE hat zum Song "Slipping Away" ein offizielles Video veröffentlicht. Der Clip wurde von Impericon umgesetzt und auf der Europatour im Januar 2013 mit Devil In Me, Stray From The Path und Deez Nuts aufgenommen.

IMPERICON kommentieren:
"Heute präsentieren wir euch exklusiv das Live-Video von The Ghost Inside mit ihrem Song ′Slipping Away′.

Nach ihren Auftritten auf einigen europäischen Festivals im Sommer letztes Jahr sind The Ghost Inside im Mai wieder auf der Bühne in Europa. Zusammen mit I Killed The Prom Queen, Breakdown Of Sanity, The Devil Wears Prada und Caliban werden die Jungs aus LA die Progression Tour perfekt aufwerten."