THE LAST TEN SECONDS OF LIFE - Band kündigt Retrospektive an
Do., 03.07.2014 - 07:30 Uhr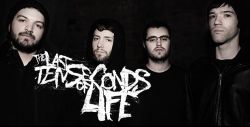 Die US Metal Band THE LAST TEN SECONDS OF LIFE hat für den 29. Juli 2014 eine 18 Song umfassende Retrospektive angekündigt. Das Album wird auf Density Records erscheinen.

Hier die offizielle Meldung:
"The four-piece Pennsylvania metal band formed in 2010 while at university together and released two EP's along with their debut full-length before signing to Density and releasing their newest full-length, INVIVO[EXVIVO] last fall.

Entitled The Last Ten Seconds Of Life 2010-2012, the disc contains remixed and re-mastered versions of all the band's earlier work including their very first single ("Manifest Destiny Will Be The Death Of Me") followed chronologically by their Justice EP from October 2010, Know Your Exits full-length from October 2011 and lastly, the Warpath EP from March 2012. The band's two EP's have never been pressed on CD before and their first full-length has been out of print since soon after its release.

Fans can pre-order the album starting today via The Last Ten Seconds Of Life's web store, and the pre-order includes a bundle option with an exclusive t-shirt design.

The Last Ten Seconds Of Life 2010-2012 track listing:

01. Manifest Destiny Will Be The Death Of Me
- Justice EP released Oct 24 2010 -
02. Justice, Where Have You Been For So Many Years?
03. Benemortasia
04. Jealousy Is Hell
05. I Don't Think We're In Kansas Anymore
- Know Your Exits released Oct 25 2011 -
06. Mansfield
07. Cutthroat
08. You Can't Turn A Ho Into A Housewife
09. Keystone Beatdown
10. A Face Amongst The Flames (ft. Carson Slovak of Century)
11. The Rain Will Come
12. Pecan Pie
13. Yo Ladies (ft. Tyler Guida of Dr. Acula)
14. Afflictions
15. Resolve
16. Muck
- Warpath EP released March 21 2012 -
17. Punishment
18. Warpath"