TIME HAS COME - Neues Album The Bleeding im Februar 2014; Snippets bereits online
Mi., 08.01.2014 - 21:23 Uhr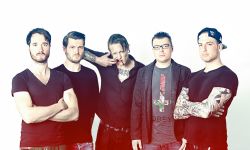 Die Hamburger Metal/Hardcore Band TIME HAS COME meldet sich mit einem neuen Album zurück! Das gute Stück heißt "The Bleeding" und wird am 14. Februar 2014 erscheinen. Bereits am kommenden Wochenende soll es einen neuen Video Trailer geben.

Die Band kommentiert auf Facebook:
"Valentines Day 2014 is going to be blood red!
The new Time Has Come full lenghth named The Bleeding will be released on February 14th at amazon, itunes or your favourite illegal download blog!Be Prepared for lots of YT Playthroughs, Teasers and an Album Streaming!"
Kurze Schnipsel der Songs von "
The Bleeding
" könnt ihr Euch nachfolgend anschauen!