WITHIN THE RUINS - Zwei neue Musikvideos in Arbeit
Fr., 01.02.2013 - 07:08 Uhr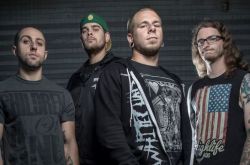 Das US Progressive Metal Outfit WITHIN THE RUINS arbeitet an zwei neuen Musikvideos. Am Wochenende sollen die Clips für die Songs "Feeding Frenzy" and "New Holy War" aufgezeichnet werden. Am 22. Februar erscheint dann das neue Album "Elite". Infos dazu gibt es hier.

Gitarrist Joe Cocchi kommentiert:
"These two songs are the best representation of the new album as a whole. We chose a very melodic/groove oriented song (Feeding Frenzy) which is something this album has a lot more of. The other (New Holy War) displays our more familiar fast paced and to-the-point sound and lyrically focusing on religion.

With Kevin's help we've come up with two pretty kick ass ideas. Two back to back days of shooting will require tremendous amounts of alcohol, so we are looking for a beer sponsor as well. Just kidding, but not really."