EMP PERSISTENCE TOUR 2014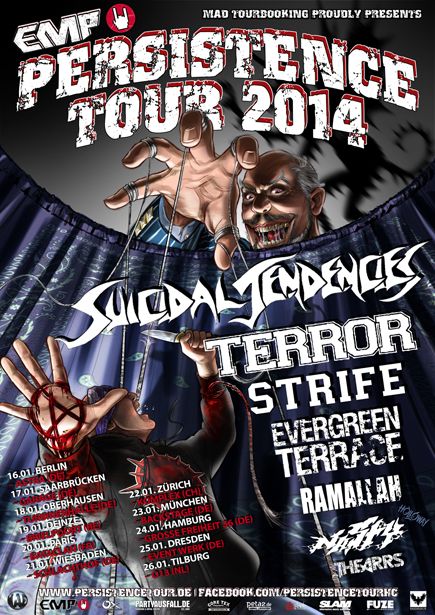 Bald ist es wieder soweit! Die EMP PERSISTENCE TOUR macht sich an erneut ihrem Namen als Europa's größte Hardcore / Punk Tour alle Ehre zu machen und wir von partyausfall.de freuen uns Euch erneut diese Tour präsentieren zu können!

Das Line-Up ist mittlerweile komplett und wird - wie üblich wohl - mit weiteren lokalen Supports aufgestockt. Und so werden ab dem 16. Januar 2014 folgende Bands das Tour Line-Up bilden:

EMP PERSISTENCE TOUR 2014 feat. SUICIDAL TENDENCIES, TERROR, STRIFE, EVERGREEN TERRACE, RAMALLAH, NASTY, THE ARRS

Die Tourdaten
16.01. Berlin - Astra (DE)
17.01. Saarbrücken - Garage (DE)
18.01. Oberhausen - Turbinenhalle (DE)
19.01. Deinze - Brielpoort (BE)
20.01. Paris - Bataclan (FR)
21.01. Wiesbaden - Schlachthof (DE)
22.01. Zürich - Komplex (CH)
23.01. München - Backstage (DE)
24.01. Hamburg - Grosse Feriheit 36 (DE)
25.01. Dresden - Event Werk (DE)
26.01. Tilburg - O13 (NL)


Die Bands
SUICIDAL TENDENCIES
US HC/Punk // Facebook: www.facebook.com

TERROR
US Hardcore // Facebook:
www.facebook.com
STRIFE
US Hardcore // Facebook:
www.facebook.com
Über die Band:
Strife is a hardcore/metal band from Los Angeles, California. Their first LP, One Truth, was released in 1994 by Victory Records to both critical acclaim and tremendous sales. At the time, their speed-metal style of hardcore was considered revolutionary, and their message of Straight Edge activism and positive life style was a refreshing contrast to the typical music popular at the time. Strife was considered one of the three "Big" bands on the then-new Victory Records label, sharing that title with Hardcore legends Earth Crisis and Snapcase. Strife released their sophomore album, In This Defiance in 1997. This album was also well regarded by the Straight Edge/Hardcore community. It was also notable for the guest appearances, with Chino Moreno of Deftones, Dino Cazares of Fear Factory and Igor Cavalera of Sepultura all taking turns on the album. Two years later, Strife broke up, citing creative differences and exhaustion. Victory Records released Truth Through Defiance, a compilation of live tracks and previously unreleased material. In 2001, Strife reformed and released Angermeans. No longer Straight Edge, this album was considered by the band to be a more mature and focused continuation of In This Defiance.
( Quelle. Facebook )
EVERGREEN TERRACE
US Metal/Hardcore // Facebook:
www.facebook.com
Über die Band:
Evergreen Terrace has been blazing their own path through the melodic hardcore scene for over a decade. Anchored by guitarist/singer Craig Chaney's clean vocals, punctuated by lead singer Andrew Carey's viciously screamed vocals. Evergreen Terrace parted ways with founding guitarist Josh James, drummer Caleb James, and left Metal Blade Records in 2012. Former bass player, Jason Southwell, rejoined the band at the end of 2012, moving Alex Varian from bass to guitar. Drummer Brad Moxey filled out the lineup on drums. In 2013, the band signed with Rise Records and recently finished tracking their Rise debut entitled "Dead Horses" produced by Stan Martell of Martell Studios in Kingsland, Ga, and is planning a fall/winter 2013 release. The Florida-born five-piece never depended on anyone to push them forward. With their blistering combination of melodic hardcore, metal and punk rock, Evergreen Terrace has toured the world with As I Lay Dying, August Burns Red, Hatebreed, Rise Against, Circa Survive, Every Time I Die, Strung Out, Agnostic Front, Katy Perry, New Found Glory and more. They have jammed tours like Sounds of the Underground, Vans Warped Tour, Persistence Tour, Hell on Earth Tour, Thrash and Burn Tour and Soundwave Festivals. Known for their intense live performances, a Evergreen Terrace show is not a show to miss.
( Quelle. Facebook )
RAMALLAH
US Hardcore //
www.facebook.com
Über die Band:
RAMALLAH is the product of White Trash Rob (BLOOD FOR BLOOD, SINNERS AND SAINTS) taking a quick snapshot of the current turmoil of the world with the angry camera of his soul. RAMALLAH is a horrifying window into the sheer depravity and brutality that has resulted from the mantra of an eye for an eye and the credo of "do unto others as they have done unto you". RAMALLAH seeks to expose the ugliness of the bloodshed we get a sneak peak of in the evening news. Rob explains, "We live in terrible times. People should be terrified and horrified and disgusted at what's going on in this world and in their name every single day. Ramallah is here to shove it all right down their throats." Musically, RAMALLAH blends apocalyptic metal and chorus-oriented hardcore with eerie melody to result in a potent style of aggressive music. "This is the most aggressive music that I've ever written" says Rob, though he is quick to point out that Ramallah is no Blood For Blood clone or stand-in: "I don't want to limit or pigeon-hole the band by attempting to descibe the sound. Let's just say that although any fan of BFB will dig this, Ramallah has many more influences and elements. There's even some melody here and there in the midst of all of the sonic apocalypse, though not enough to make it palatable or friendly to complacent white America" (laughs). RAMALLAH's main lyrical thrust is to uncover the death, disease, and sickness that is the world's current climate. Rob vents, "It is a sick world that we live in. Not just my world, but the whole world. And I intend to shove it as many people's faces as I can. So I'm holding back on the personal memoirs and anecdotes that I've often indulged in in the past. The whole world is burning as we speak. Right now the only crime is silence".
( Quelle:
www.bridge9.com
)
NASTY
BE/GER Hardcore // Facebook:
www.facebook.com
THE ARRS
FR Hardcore Metal // Facebook:
www.facebook.com
Über die Band:
Looking for a powerful music, somewhere between metal's strength and hardcore's madness, deep meaningful lyrics and a powerful attitude in a constructive approach? Forget about followers, clichés and boring stuff! Just keep your ears wide open and welcome THE ARRS!
(Quelle: Facebook )
Videos
Bilder/Credits: Mad Tourbooking
Links: