LIGHT IT UP - Interview mit partyausfall online
Di., 26.06.2012 - 07:49 Uhr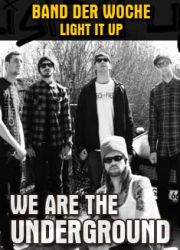 Im Rahmen des partyausfall.de Promotion Specials "WE ARE THE UNDERGROUND" ist die sächsische Hardcore Band LIGHT IT UP aktuell unsere Band der Woche.

Wir haben uns mit Schlagzeuger Marco über LIGHT IT UP unterhalten und das komplette Interview findet ihr jetzt hier: hier

Des Weiteren wurde die WATU Seite von LIGHT IT UP aktualisiert und ihr findet dort das komplette Set einer Show aus der Chemiefabrik in Dresden online.

Den "WE ARE THE UNDERGROUND - Compilation #1" Beitrag von LIGHT IT UP haben wir ebenfalls als Stream hochgeladen, der Song heißt "Revival".